Shop Description: SALTI bracelets are the highest quality nautical rope bracelets. Sailor made. Using the best marine ropes and stainless steel shackles allows the bracelets to hold up very well in salt water and weather. They will not shrink, stretch or rust. A perfect casual bracelet for the outdoorsy type especially water enthusiasts. These bracelets were recently a big hit on the Nautica Runway in the New York Fashion Week for Spring Summer 2014.
Where Did You Learn Your Craft: I learned my craft through a lifetime of tying ropes on sailboats and ships. My love of ropes and all things nautical combine with a creative design talent to make these aesthetically pleasing, comfortable, durable bracelets.
What Inspires You: The Ocean and Nature with all their magnificent colors and ever changing beauty are my biggest inspirations.
Biography: I grew up on the picturesque Cape Breton Island and now live in the port of Halifax, Nova Scotia, Canada.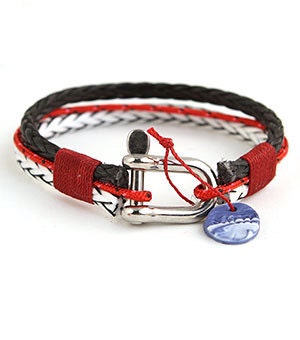 Where to find SALTI Nautical Rope Bracelets by Cathy Davey: